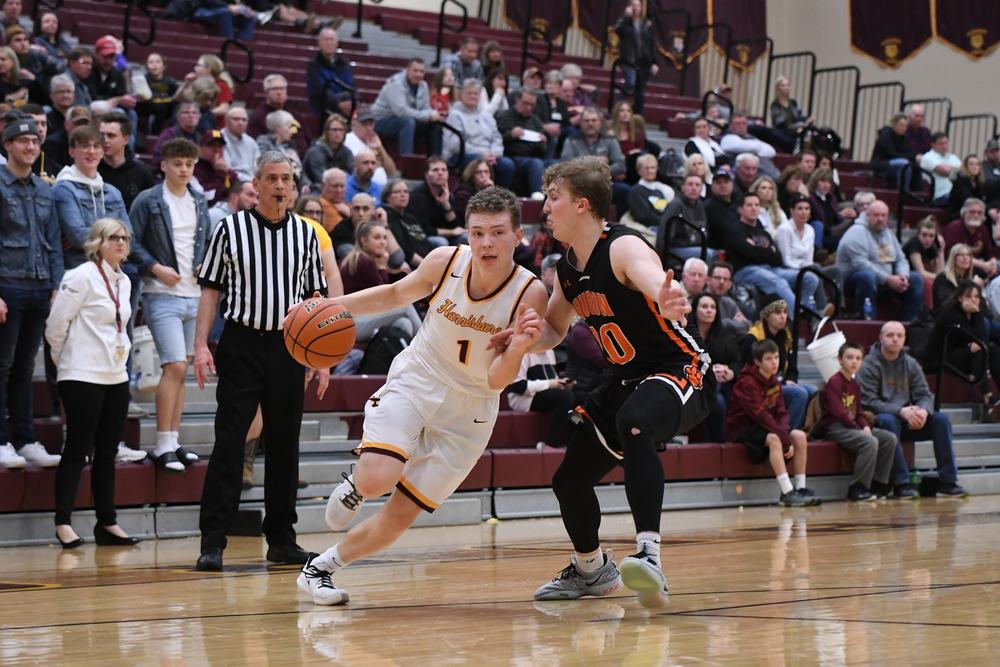 Takin' It to the Hoop
Ella Christenson
Tuesday, March 10, 2020
On February 4th, the Varsity Boys Basketball team captured a big win against number the two seed in the state, O'Gorman, which put them at the 12th seed of the 18 AA teams throughout the state. During the game, the boys had to work fast, hard, and smart to achieve this victory. Junior guard Conner Geddes was the highest scorer in the game. He says, "I think vs. OG we played to our potential both offensively and defensively. We showed that we can compete with any team in the state." To continue to win, the players need to work together and stay motivated as the post-season draws near.
As the players continue to grow stronger bonds both on and off the court, their performance during games improves, as well. A healthy relationship between the players has been a huge help in the team's recent success. Ethyn Rollinger, a junior on the varsity team, explains, "We are all teammates on the court and are building chemistry as the year goes on, but we are also good friends off the court, so hanging out and doing stuff together outside of basketball makes our team closer." The team will continue to prepare for their upcoming competition, which includes playing tough teams like Brandon Valley, Aberdeen, Huron, and Sioux Falls Lincoln.
Along the courtside, Head Coach Scott Langrock and Assistant Coach Andy Kleinjan preach the team's culture of commitment, accountability, and understanding. Although their team is young, they have shown that proactive coaching and diligent practices pave the way for success.
The State AA Boys Basketball Tournament in March is quickly approaching; in turn, the boys will have to continue working hard both mentally and physically to get a win in their SoDak 16 game, which will be played on Saturday, March 7th.
Photo Courtesy Jon Klemme